Ice Cream Cakes
Tired of those "supermarket" ice cream cakes?
Then come try the best!
We make wonderful ice cream cakes, both delicious and beautifully decorated by our talented staff.
Our ice cream cakes are made with two layers of our delicious homemade ice cream, with a layer of fudge and chocolate crunch between the two ice cream layers. We can substitute Graham crackers, sugar cone crumbs, crumbled Oreos, or even chocolate chips between the layers, if you prefer, and we can use caramel rather than fudge.
Note: [September 2019] Our cake prices have not changed since 2014! And in doing pricing comparisons with our competitors, we've realized that our cakes are ridiculously under-priced — we've found Soft-Serve cake makers who are charging more than us! Our bad, we should have been doing yearly increases as the minimum wage and cost-of-ingredients have increased. So, the prices here are the new prices, effective sometime in late September/early October.
Our cakes are available in four sizes:
6" diameter round x 3" tall: This is the smallest cake that we sell. We make it with two layers of ice cream, with a layer of rich, gooey fudge and chocolate "cake crunch" between the two layers. It serves approximately 6 - 10 people and costs $29. Be aware that there's not a lot of room on the top of this cake for decorations, so if you need us to write a long message, you might want to consider one of our 8" cakes instead!

8" round X 2" tall: This is a shorter, but wider, version of the above cake, made in exactly the same way. We recommend that you plan on serving 8 to 12 people with this cake. The price is $35.

8" round X 3" tall: This is the most popular sized cake that we sell. Made with two layers of ice cream, just like the others, this cake should comfortably feed around 14 to 18 people and costs $39.

9" X 13" rectangular, 2" tall: This "quarter sheet" cake size is perfect for larger crowds. Like our round cakes, we make this in two layers, with fudge and cake crunch between. This cake costs $52 and feeds roughly 24 to 30 people, and also has a lot of space on top, in case you need a long message written, or have some crazy-intricate details to add (Like the Fire Engine cake shown in the photos below!)
Please Note: Our suggested "number of people served" are for an "average" serving -- approximately 5 ounces. Please adjust these suggestions up or down depending upon whether you plan to serve "Tricycle Riders" or "Truck Drivers"! You might want to consider whether the ice cream cake is the only thing being served, or if it's being served together with other dessert items. While we don't want to talk you into buying a larger size than you need, in most cases it's better to have a little left over for later, rather than not having enough to serve everyone. Our cakes will taste just as great the next day, so long as you quickly return any unserved portions to your freezer!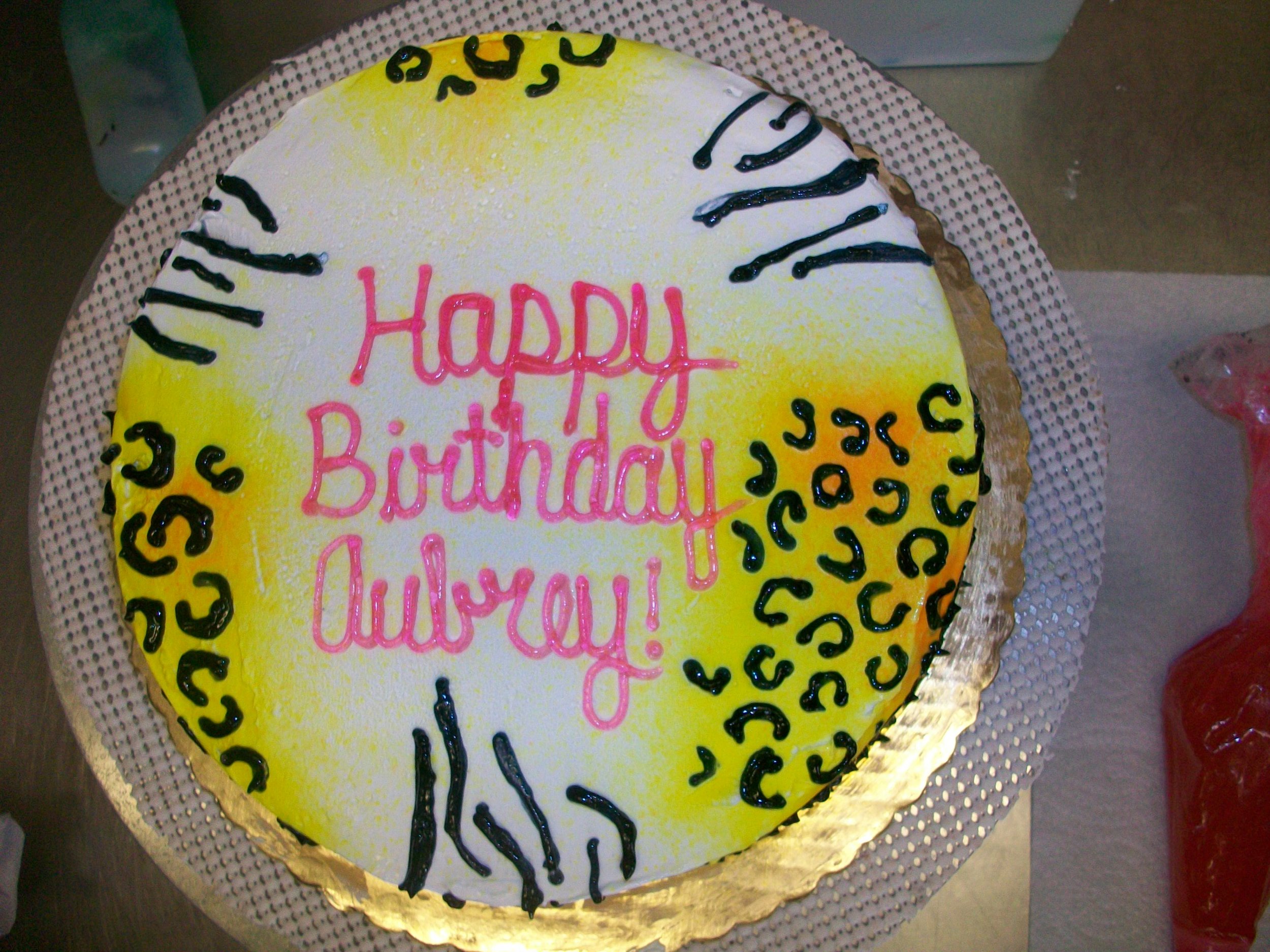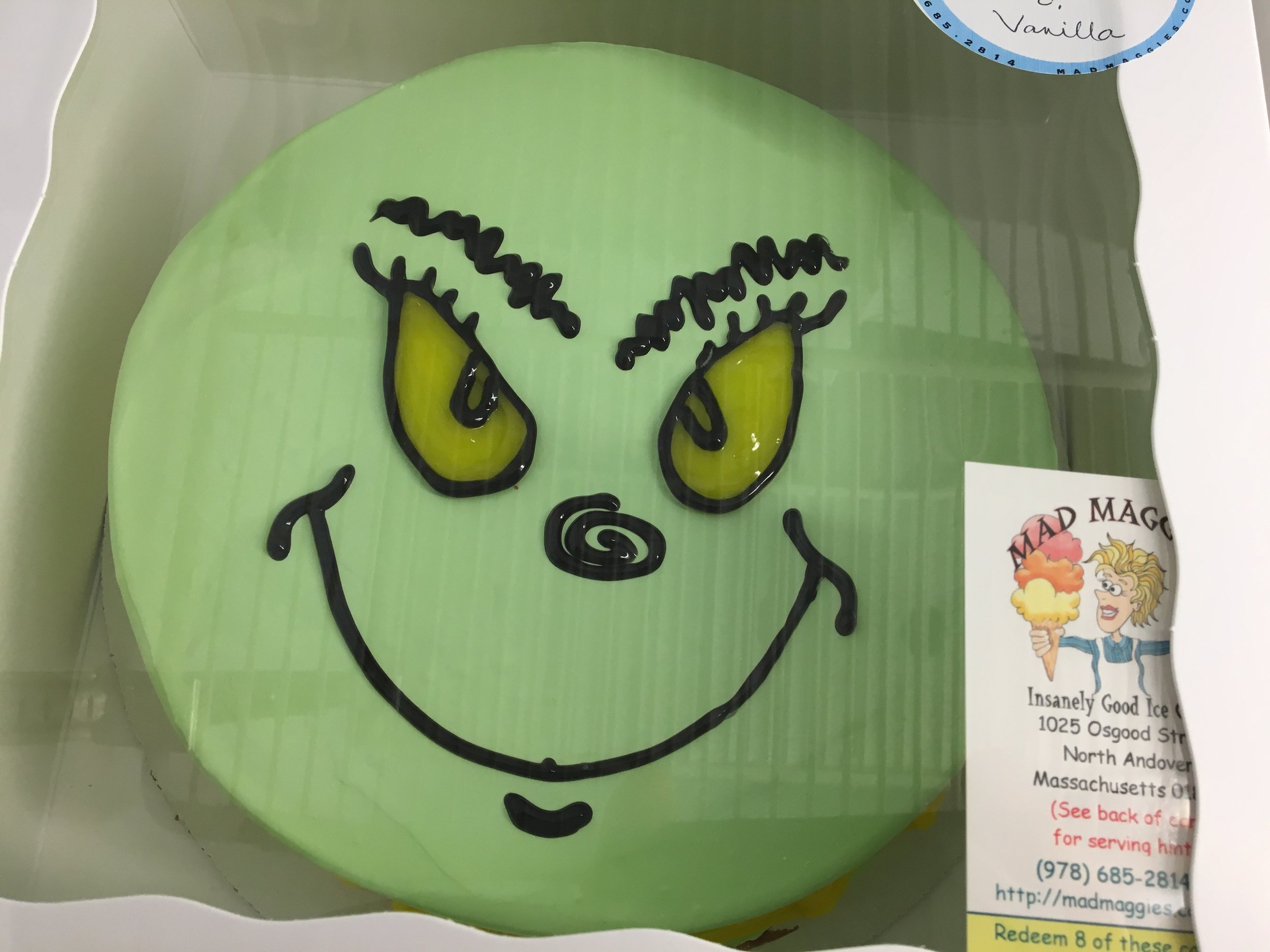 Why is a Mad Maggie's Ice Cream cake better?
Our cakes cost slightly more than those you might find in the supermarket or at another shop, but you're getting a much better ice cream cake for your money:
Premium Ice Cream: Our cakes are made with our delicious, homemade 16% butterfat, ultra-premium ice cream. The cakes you might find elsewhere are typically made with soft-serve ice cream, which is commonly a 5 to 10% product, but can be as low as a 3.5% butterfat product! (Hint: If the box says "Frozen Dessert", rather than "Ice Cream Cake", beware -- that means they're selling you a cheap product that's less than 10% butterfat, and can't legally be called "Ice Cream"!)

Quality Ingredients: We use the best fudge for the layer of fudge between the two layers of ice cream. We use a baker's grade "Marbling Fudge", which stays chewy when frozen, rather than break-a-tooth hard, like the products used in some other cakes.

Variety: If you buy a supermarket cake, you can usually get it in any flavor you want -- as long as you want chocolate or vanilla! With a Mad Maggie's cake, you can choose your flavors from any of those that we're currently serving.

We do need a bit of time to put together custom flavored cakes, so make sure to call the store to check if we can "build" your cake in time -- we ask for 48 hours notice, but in an "emergency", we can sometimes turn them around faster!
Decorations
Our standard cake pricing includes a white non-dairy dessert frosting, with a single color border. We have several talented cake decorators on our team, and can do more detailed decorations for an additional charge.

Understand that the cost of "standard" decorating is factored into our prices; if you want something sophisticated or you need specific color matching, we'll be happy to oblige, but we have to charge a decorating charge to cover the cost of supplies and for our decorator's time.

Also, please keep in mind that we're an ice cream shop, not a professional bakery. Our decorators do a fantastic job, but if you're looking for an extremely detailed design and need absolute perfection, we recommend you buy the cake from us, then take it to a professional cake decorator. We can recommend one, but I'm sure their decorating charge will be much steeper than ours.

And note that we can't replicate any copyrighted images, so if you want a "themed" cake, you'll need to purchase a licensed "kit" for it (you can find them at most Michael's craft stores, or even at Walmart), and we'll decorate around it. See the "race car" or "Minnie Mouse" cakes in our cake photo gallery for examples where we did this.

Browse through our Cake Photo Album and if you see something similar to what you have in mind, let us know! We'll be happy to try to duplicate one of them for you.
Availability
We generally have several pre-decorated cakes in our display case, and you can come in and grab one at the last minute. We'll even write a special message on it for you while you wait! We typically make these cakes using our most popular flavors -- Vanilla, Chocolate, Oreo, Chocolate Chip, Mint Chip, Black Raspberry, Coffee -- but sometimes some of our funkier flavors sneak in there!
If you want to choose your own custom flavors in your cake, you can pre-order one, and we'll put it together for you. Just give us 48 hours notice, and we'll be able to make your cake with just about any flavor we currently are serving. (With a bit more notice, we can sometimes even make a batch of a flavor we're not currently serving, but please call the store to get confirmation before planning on this!)
If you need a last minute cake, please call the store and ask to speak with one of our decorators. We can't always have a custom cake ready on short notice, but sometimes our decorators can pull a little magic to get one ready quickly. (We often have cakes in progress in our back freezers, so we can sometimes take a cake that has one layer ready and add another flavor to it to suit your taste in a quicker time frame. But again, call to ask — and call as early in the day as you can!)